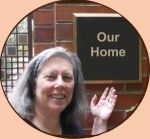 Our walk through downtown this afternoon through the rain and blowing wind was met with the re-emergence of Occupy Portland. They are out today to renew their efforts and join a national day of unified protest. Their route remains intentionally undisclosed; their goal to protest large corporations. They plan a deliberate attempt to disrupt business and the evening rush hour.
Participants assembled in late morning and began their march through downtown. Their chants are accompanied by drums and whistles as helicopters hover above. Police on bicycles, motorcycles, and on foot are stationed around the downtown area waiting for their call to action. Police in full riot gear are similarly ready and waiting.
Usually the early signs of spring take center stage now. Daffodil stalks are emerging, cherry trees are budding. However, nature is unseen today amid the clamor of protest.